WHO IS


GAYLOR ELECTRIC?

As the Highest Performing National Contractor of Excellence, Gaylor Electric offers complete design-build electrical construction and 24/7 on-demand electrical support. Recognized by many world-renowned companies as one of the most forward-thinking organizations in the industry, Gaylor Electric delivers consistent excellence in innovation and quality to the customers we serve. Our teams of inspired employees provide an unparalleled commitment to cultivating strong business relationships, resulting in continued client loyalty.
HOW WE


STARTED.

In 1984, John Gaylor realized the need for an electrical contractor that encouraged open competition and a free-enterprise approach to construction based on merit. John was determined to provide first-class service and outstanding job performance for clients. For employees, he was intent on delivering the best wages and benefits, quality equipment, and continued education and training. These business ideals and values laid the solid foundation for what became Gaylor Electric.
John Gaylor
Chairman Emeritus
John C. Gaylor founded Gaylor Electric in 1984, with the express idea of bringing something new and different to the industry. With a strong belief in the merit-shop philosophy, he simply felt that there was no existing company that shared his personal and business values. From the beginning, John set out to surround himself with the top experts and craft professionals in the industry, which Gaylor Electric still continues to achieve. In more than two decades of operation, his vision has experienced remarkable success. John believes that this success is due to an uncompromising allegiance to a set of core governing values in all aspects of the enterprise.
John was a leader in every aspect of his life. He practiced his very own style of servant leadership, whether it be to clients or colleagues. In January of 1991, John was selected as the Associated Builders and Contractors (ABC) Contractor of the Year at the ABC National Convention in Maui. ABC is the largest construction trade association in the United States, with approximately 26,000 member companies. In 2014, John became Emeritus with the selling of the company.
John went on to serve as a Chairman of the Board of Directors for ABC Indiana/Kentucky from 1988 to 1989. He was also the recipient of the 2000 "Blue Chip Award" presented by the United States Chamber of Commerce. With his knowledge and expertise in the industry, John has also testified before the United States Congress on various business and labor topics.
Chuck Goodrich
President & CEO
Chuck Goodrich serves as the President and CEO of Gaylor Electric, one of the largest merit-shop electrical firms in the country. As a national award-winning electrical design-build contractor, Gaylor Electric employs more than 1,500 dedicated and highly skilled men and women and operates 11 offices in five states across the United States.
After graduating from Purdue University with a B.S. in Building Construction Management, Chuck began his career with Gaylor Electric in 1991 as an intern and subsequently moved up the ranks to a variety of key leadership positions within the company, ultimately being named President in November 2014. As a proven leader, he inspires his employees with his high-energy/high-performance business style. During his tenure, Gaylor Electric has created more than 1,000 jobs.
A leader in the business community, Chuck serves on the Executive Committee as past chairman of the board of directors for National Associated Builders and Contractors (ABC); is past chairman and current board member of the Riverview Health Foundation and past chair and currently serves on the Executive Committee of the Purdue Construction Advisory Council for Building Construction Management; actively works with the Hamilton County Workforce Innovation Network (HCWIN) and is a member of the Indiana Department of Workforce Development's Region 5 Workforce Development Board. Also serves as Chair of David's Well. He has also been recognized for his professional leadership and philanthropic passion by winning the James J. Leonard Memorial Award, Businessperson of the Year for the City of Noblesville, the ABC Outstanding Chapter Support Award, and the Gaylor Optimist Award.
As an Indiana State Representative, Chuck Goodrich of Noblesville, Indiana was first elected to serve the constituents of House District 29 in 2018. Since his election, Chuck has gone on to author/co-authored several bills, 7 of which have been signed into law by Governor Holcomb. Chuck lives in Noblesville, Indiana, with his wife, Tricia of 27 years, and their four children. The family is active both in the Noblesville community and as members of the White River Christian Church in Noblesville. His favorite things to do during his free time are spending quality time with his wife and kids, playing golf, and rooting for the Indianapolis Colts and Purdue Boilermakers.
Justin Baker
Chief Operating Officer of Business Excellence
Justin Baker, a 2002 Purdue University School of Building Construction Management graduate, began working for Gaylor Electric shortly after graduation. From day one, Justin demonstrated the desire to learn, develop, and grow his professional career. During his first 10 years at Gaylor, Justin was based out of Indianapolis but traveled throughout the country working on many of Gaylor's largest projects. Justin's experience and responsibilities advanced him from project manager, location manager, to Southeast Executive Vice-president. Over the past 15 years, Justin has continuously demonstrated Gaylor's values and standards at the highest levels, while leading enthusiastically in all his roles.
As the newly appointed Chief Operating Officer of Business Excellence, Justin will provide support to all corporate operation support roles, such as Engineering, Innovation, and Technology. Justin will continue to use his talents and leadership to cultivate a company culture that offers winning opportunities for all people.
Rob Griffith
Chief Operating Officer of Performance Excellence
As a Purdue University and ABC Apprenticeship Program graduate, Rob Griffith's diverse background includes a degree in organizational leadership and supervision, as well as several master electrician's licenses. Rob joined Gaylor Electric in 2009, after merging his family owned electrical business, Griffith Group, Inc. He was brought onto the Gaylor Executive Team as the Midwest Vice President with the goal of cultivating a future of success and inspiring young craft professionals in the industry. As of May 2020, Rob was selected to serve as the Chief Operating Officer of Performance Excellence.
As COO of Performance, Rob's goal is to unify operations in the Midwest and Southeast. With a focus on delivering consistent excellence in innovation, quality, and performance, Rob oversees our national construction and service teams. As a proven leader and mentor, he continues to motivate those around him to reach their professional and personal potential. Rob will continue to focus his efforts on the development of our industry's workforce and provide Gaylor Electric with forward-thinking leadership. Outside of Gaylor Electric, Rob serves Associated Builders and Contractors as Chairman of the ABC Indiana/Kentucky Apprenticeship Trustees, where he helps further the merit-shop philosophy through education.
Jim Crews
Chief Financial Officer
As Chief Financial Officer of Gaylor Electric, Jim Crews is leading the company towards its financial vision by developing personnel, systems, and infrastructure to effectively manage this dynamic organization. After graduating from the Indiana University Kelley School of Business, with a B.S. in accounting, Jim immersed himself in the industrial/manufacturing world of business. Earning roles such as Vice President of Operations and Vice President of Finance early in his career – Jim soon earned a seat on the Board of Directors for the Indianapolis Young Presidents Organization, which led to his career with Gaylor Electric.
With a vision of exponential growth, former president, John Gaylor, recognized Jim as the correct individual to successfully structure the accounting department in preparation for what was to come. Jim has always fostered a team environment with a focus on meeting goals and requirements by working collaboratively regardless of job title, position, or tenure. Now with 35 years of experience, Jim continues to lead by example and values inspiring young talent to reach their goals. He also serves on various boards of directors of both private and civic organizations.
Michael Fort
Chief Values Officer
At Gaylor Electric, we believe our core values define who we are as a company. Michael's career has always had a strong emphasis on teaching, training, and coaching. This background has proven to be instrumental in helping Gaylor Electric be an industry leader in recognizing the importance of continual personnel development and growth for all employees. Over his career, he has had a passion for helping develop the discipline of ethical business values instruction within the construction industry. The Values Department reports directly to the President/CEO and serves the best interests of the entire organization.
Jeff Bryant
Director of Gaylor University
After spending 20 years in public education as a teacher and principal, Jeff Bryant joined Gaylor Electric in 2019 to lead the development of our people. After graduating with a bachelor's degree from Purdue University in 1999, Jeff continued his education at Indiana Wesleyan University where he received a master's degree in 2004 and his principal's licensure certification in 2006. It is this commitment to life-long learning that has guided Jeff's career as he has continually led efforts to grow and develop a wide range of people from unique backgrounds.
It is Jeff's forward-thinking, innovative approach to learning and development that has fit seamlessly to the current growth and expansion of Gaylor Electric. In over 20 years as an education leader, Jeff has developed a deep commitment to his "why". He believes that when authentic, intentional learning opportunities are provided, people grow personally and professionally leading to the enrichment of the families and communities we serve.
Jeff serves on the Associated Builders and Contractors' Indiana/Kentucky Apprenticeship Board as a Trustee where he works to promote the merit shop philosophy through education.
AWARDS


CELEBRATING SUCCESS

Since Gaylor Electric's 1984 establishment, our organization has received many local, state, and national construction awards. These accolades are a testimony of our talented team of men and women, their commitment to quality, and the dedication they bring to the job day-in and day-out. See below for our archive of previous awards.
Industry
2020 Trolson Model Member of the Year
2019 National Excellence in Safety
AEP Transmission Zero Harm Contractor Safety Award
Governor's Workplace Safety Award
ENR Top 10 Midwest Contractor
ENR Top 600 National Contractor
ABC Excellence in Merit-shop
ABC National Contractor of the Year
ABC Accredited Quality Contractor
Out of Town Vendors of the Year
Indiana Business Journal – Largest Electrical Contractor
Indianapolis Pulse of the City – Excellence in Customer Satisfaction
STEP Diamond Award
STEP Platinum Award
NAWIC Excellence in Safety
OSHA Partner – Gold
Coalition for Construction Safety (CSS) Safety Innovator of the Year
Coalition for Construction Safety (CSS) Excellence in Safety
Partner
Construction Partner
Maeda Corporation  Best Business Partners
ARCO Murray National Subcontractor of the Year
Skanska Injury Free Environment Award
Turner Construction Subcontractor of the Year
Community Partner
Prevail Outstanding Community Partner
Hamilton County Time's Reader's Choice Award
Individual
ABC National Craft Champion | Gold
J.R. Christenberry — 2017
J.R. Christenberry — 2016
Spencer Hoffman — 2014
Pawel David — 2011
ABC National Craft Champion | Silver
Lucas Anderson — 2018
Paul Yankauskas — 2017
Steve Dees — 1995
Jeff Corbett — 1994
ABC National Craft Champion | Bronze 
Shawn Flanagan — 2015
Eli Hannoy — 2006
Paul Northrop — 1997
Business Person of the Year
Chuck Goodrich — 2015
Woman of Vision
Mary Jane Polsgrove — 2017
ABC National Craft Professionals
Ron Cayton, National Craft Professional of the Year – 2020
Richard Brown, National Craft Professional of the Year — 2018
Justin Baker, ABC National Young Professional of the Year — 2017
John Lupacchino, National Craft Instructor of the Year — 2016
James W. Rabold

 

Safety Award
Dennis Fishburn — 2020
Paul Zuranski — 2017
Wade Peterson — 2016
Our Work
ABC National Excellence in Construction – Eagle Award (1st Place)
The Scott Hamilton Center for Proton Therapy – Nashville, TN
Essroc New Line Project – Martinsburg, WV
St. Francis Hospital – Mooresville, IN
Birck Nanotechnology Center/Purdue University – West Lafayette, IN
Indiana Packers Quick Chill Expansion – Delphi, IN
FedEx Phase V Expansion – Indianapolis, IN
Steel Dynamics Hot Mill  Expansion – Fort Wayne, IN
United Airlines Hangar 1 –  Indianapolis, IN
DowElanco Research and  Development Center – Indianapolis, IN
ABC National Excellence in Construction – Pyramid Award (2nd Place)
KAR Global Headquarters – Carmel, IN
University of Louisville, University Pointe – Louisville, KY
Seton Specialty Hospital – Indianapolis, IN
Indianapolis Athletic Club Renovation – Indianapolis, IN
Grand Wayne Convention Center Renovation & Expansion –  Ft. Wayne, IN
Riverview Women's Pavilion – Noblesville, IN
TOA (USA), LLC Manufacturing Plant – Mooresville, IN
Qwest Communications
Riley Children's Hospital, Outpatient Center – Indianapolis, IN
RCI Vacation Plaza Renovation – Indianapolis, IN
Cummins CEP Expansion – Columbus, IN
Nestle R&D Center – Marysville, OH
Murat Centre Restoration – Indianapolis, IN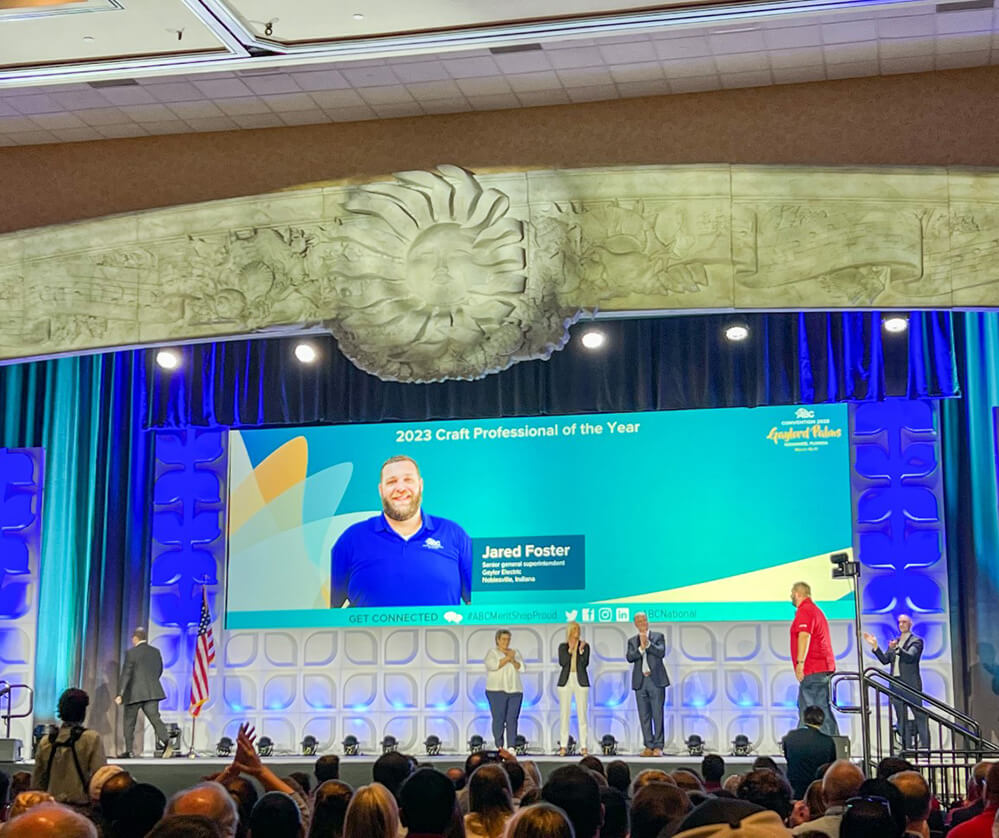 COMMUNITY


GAYLOR GIVES BACK

Our commitment to others makes us who we are. Gaylor Electric strongly values corporate responsibility on a local, national, and global scale.

Across the country, each of our office locations play an active role in the support of their local communities, schools, and charities. On a national and global level, we partner with multiple philanthropic organizations and participate in overseas mission trips that work to build a better tomorrow.